Join Us Now! We Will Walk You to Your Destiny
Diligence Academy Welcomes you to achieve your cherished goal. DILIGENCE was established on 1st January 2017 in Thodupuzha with the noble objective of making the maximum number of students to get through the IELTS examination. We are delighted to inform you that we have been able to successfully train a considerable number of candidates to secure individual band score 7 within this short period of time since our inception.
Consistent individual care and attention is one of the distinguishing and matchless features of our institution. Experienced, qualified and service-minded teachers are our yet another earmark.
Are you struggling to get through the IELTS? Be relaxed and cool. We will walk you to your cherished goal. Take the decision right now! Don't miss your chance!!

Proof of the pudding is in the eating!!!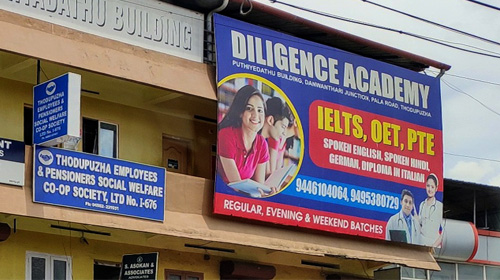 Our Specialities
Individual care and attention
IELTS regular classes from Monday to Friday
IELTS evening batch from Monday to Friday (5 pm to 7 pm)
IELTS weekend batch on Saturdays and Sundays
IELTS one-month crash course
IELTS two-month crash course
IELTS online coaching
UKVI coaching
Spoken and communicative English (2 pm to 4 pm)
Online exam booking

"We are what repeatedly do. Intelligence, therefore, is not an act, but a habit"
Aristotle
© 2021 Diligence Academy . All rights reserved.